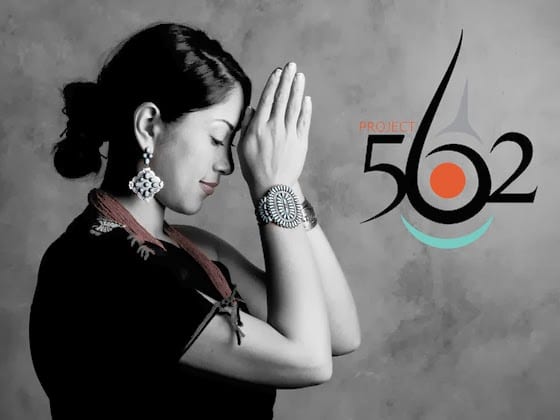 It has been a little over a year since Native American photographer Matika Wilbur has hit the open road in her car and has embarked on an epic adventure. Her goal: to take photographs of citizens in every federally recognized tribe in the United States, originally 562 is now up to 566 in number.
With this project, Matika, who is of the Swinomish and Tulalip Tribes in Washington, hopes to address historical inaccuracies, stereotypical representations, and the absence of Native American voices in national awareness and media. In 2010, the US census showed that there were approximately 5.2 million Native Americans living in the United States. Despite this large number and the cultural, economic, and political variety of Native Americans, there are still many misleading images and ideas from the nineteenth century that are prevalent in our country and culture. Matika hopes that when the project is completed, hopefully sometime in 2015, that it will serve to educate people within the United States and shift national consciousness to recognizing indigenous communities. In the opening statement of her website, Matika stated that:
"I believe that there is an open space that is yet to be filled – that space is authentic images and stories from within Native America. My work aims to humanize, the otherwise 'vanishing race', and share the stories that our people would like told. In this respectful way, I have been welcomed into hundreds of tribal communities, and I have found that people welcome Project 562, because they are ready to see things change."
Overall, her project so far has been extremely successful. Beginning as a Kickstarter campaign that needed $54,000, Project 562 ended up raising $213,400 and had over 3,800 people supporting it monetarily. She has photographed people from approximately 185 tribes through her travels, most on the West Coast of the United States. She has taken portraits and collected stories of the many elders, linguists, teachers, artists, professionals, and other modern Native Americans that live in tribes throughout the United States.
Matika has shown her work in regional, national, and international museums including the Seattle Art Museum, the Nantes Museum of Fine Arts in France, will have an upcoming exhibition in the Tacoma Art Museum. She is a very accomplished artist, who is also very quick to point out that she is not the only Native American artist to create new ways of self-representation stating that there are many great indigenous artists and activists who are also doing the same type of work that she is doing, and that she does not stand alone.
Matika, in the closing of her statement, said, "The time of sharing, building cultural bridges, abolishing racism and honoring the legacy that this country is built on is among us. Project 562 is that platform." There are no truer words. Matika and her Project 562 are making many strides to help overcome racial stereotypes and prejudice. Through them, we will hopefully be able to bridge the gaps between the cultures in the United States and have beautiful artwork that represents the many different Native American cultures of this country.
Feel free to leave a comment or questions, and if you wish your remarks or questions to remain private, contact 1st Tribal Lending.