Photo courtesy of: http://www.eastoregonian.com/
Born in 1951 to parents of Chinook, Walla Walla, German, Irish, and French Canadian descent, Lavadour grew up in Pendleton, Oregon on the Umatilla Indian Reservation. He discovered his love for art and painting as a child and was encouraged by his family to pursue his artwork. Primarily self-taught as an artist, Lavadour's early works were mostly monochromatic, abstract paintings of geology and landscapes. He describes them as, "emotional interpretations of the land," and called them Interiors. Since the 1970's Lavadour has be exhibiting his artwork, with his first show in Sacred Circle, a Native American art gallery in Seattle, Washington. Today, Lavadour is considered one of the most prominent and affluent Native American artists of our time.
Crows Shadow Institute of Art
Wanting to create a place to help other American Indians realize their potential for art as he did when he was younger, Lavadour and friends established Crows Shadow Institute of the Arts in 1992. The non-profit organization over the years has offered workshops on many different traditional art forms. Its site, a studio in the St. Andrews schoolhouse on the Umatilla Indian Reservation, has served as a location for special projects and collaborations with many artists.
Current Work
Since the 1990's Lavadour has begun exploring other techniques of painting and printmaking. This new technique, combining printmaking techniques with his own unique style of painting, makes his artwork look like maps with moving geological formations and landscapes. Also, influenced by Chinese painting and artwork and abstract expressionism, Lavadour has branched out using different art techniques and styles, but still continues to focus on landscapes and geologic features. He also works on a large number of paintings at once, including some that he began 10 years ago. Lavadour was also recently featured in April on Oregon Public Broadcasting and discusses his process for not only viewing nature, but also how he turns what he sees into artwork.
Major Shows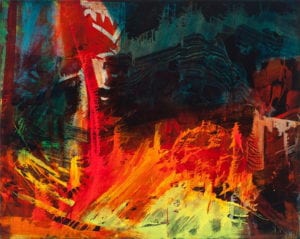 Venice Biennale – One of the largest and most known art shows across the world, the Venice Biennale held in Venice, Italy is where approximately 160 artists are selected to display their artwork. Lavadour's artwork was picked to be displayed from June to November for the 2013 Venice Biennale. The artwork was titled "Tiicham" which is a tribal term for "Our Land." The team who picked his artwork found his structural approach to Oregon landscapes across time was very interesting.
Vantage Point – At the National Museum of the American Indian, a branch of the Smithsonian Institute, a collection of 25 contemporary Native American artists were featured from across the United States and Canada. The artists within in exhibit not only challenged the notions of Native American art but also confronted people's perspectives of history, culture,  and current events. The show went from September 2010 to August 2011.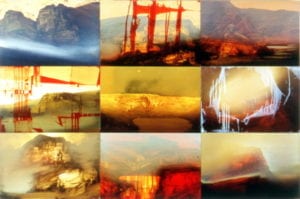 James Lavadour: The Properties of Paint – From the beginning of February to the end of March of 2008, Lavadour's artwork was featured at the Hallie Ford Museum of Art at Willamette University. This solo show focused on Lavadour's work up to that point and 'intersected' between his landscapes and abstract architectural structures.
Feel free to leave a comment or questions, and if you wish your remarks or questions to remain private, contact 1st Tribal Lending.